8/6/08 02:56 pm
so I stopped dreaming about kites and started making them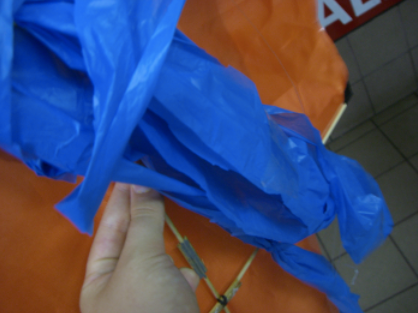 orange rayon sail, blue plastic bag tail
When we got to the beach our kites didn't fly. Amy's spun in sad little circles no more than a meter off the ground and mine wouldn't do anything but nosedive into the sand over and over. Tiago is brazilian,we met him on the beach. Been flying and fighting kites since he was seven, told us in his town in Brazil there is a church with curved turrets and he is one of only three men in the town who can make a kite rest high against the turret's side and leap off again into the wind with just a little jerk of the string. His kite was simple, just red tissue paper and a carefully constructed three piece bamboo frame, but it dove and climbed and danced however he wanted it to.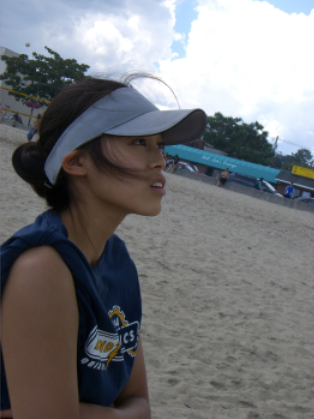 Amy is captivated by Tiago's little kite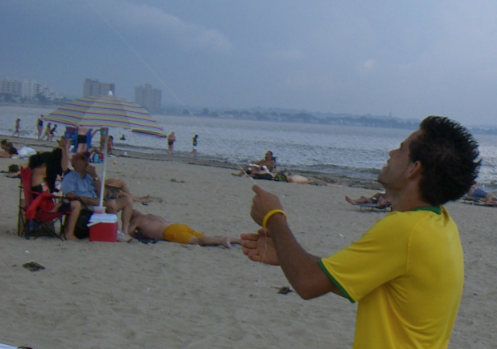 I worked so hard to make that kite that I could not just let it fail. I un-stuck the frame and reattached it the opposite way, and it FLEW it FLEW it FLEW I have never felt so proud and joyous in my life.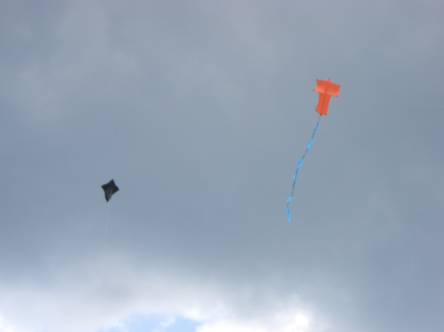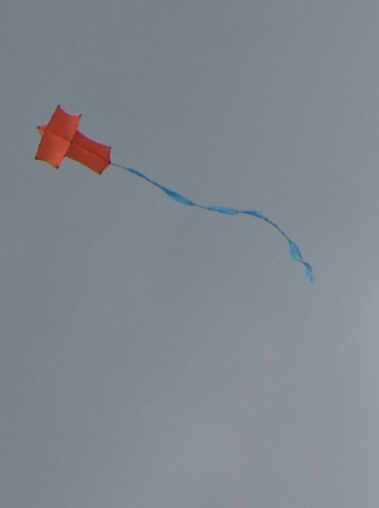 !
in the works: I'm starting simple but gonna move up to more complicated. My friend's boyfren works at a wind power company in california, makani power, they go kitesurfing after work and on th weekends. I guess making a kite that could lift me would be the greatest but I am not going to let the dream get ahead of me, gotta focus on the immediate challenges first.
Khemda gets here in thirteen days.. I guess we will do a lot of biking and kiting and building. East Campus rush is soon and me and Amy's project has yet to be so much as sketched.. we are making a strandbeest, those creatures that Theo Jansen makes. Something like
(
this
Collapse
)
although the ones that I truly think are beautiful are these
when I wrote to Theo Jansen in May asking about maybe being, I don't know, some kind of apprentice, or intern, I was not even sure it was his real email (it was a yahoo account). But he wrote back to me--
"Dear Carmel, Thank you for your message and offer. Sorry I really prefer to work on my own. I hope you will understand. I wish you a lot of success finding a place for an internship. Best, Theo"
I was devastated but also giddy at receiving any reply at all. "Since 1990 I have been occupied creating new forms of life," says Theo to me, I am sure he is talking to me, he wrote back, he prefers to work on his own but he wrote back to ME. "I make skeletons that are able to walk on the wind, so they don't have to eat," he explains to me, in Dutch, of course, and I understand every word by watching the lines in his face that form themselves into the shapes of the creatures. His dvd shows shows clips from when he was young. At age twenty something he made a UFO, set it adrift over Amsterdam and chuckled his quiet, solemn chuckle while the city's hobos, suits, babies and lipsticked ladies panicked and loudly proclaimed their alien invasion theories on national television. The subtitles do not make very much sense but you can hear them say OOFO, OOFO! and point excitedly.. Theo just chuckles.
"I want to put these animals out in herds on the beaches, so they will live their own lives," says my grandfather Theo. I am adopting him as my grandfather I am not sure if he knows that yet but let me make it clear, Grandpa Theo, I expect a card on my birthday, okay
+++++
I wonder if I will make anything of myself